Hello my lovelies, now Valentines Day is fast approaching, it's on Saturday! Now you've probably all got your plans, but if your not as organised, taking it day by day, or how have no idea what you can do then hopefully this post can help you. As I live in London the post will be based around things to do in London, however I'm sure you can find similar things in the places you live. Some ideas will be for relationships or just going it single with a group of pals, so I hope you enjoy and this post is useful.
Fifty Shades Of Grey
If you didn't know, Fifty Shades Of Grey, you know that really kinky, whip using movie is released in London on Valentines Day, so if your like me, a singleton who can't wait to watch this, this is what I will be doing, maybe in a fancy Leicester Square cinema. But this would be a great option if it's a group of you gorgeous ladies (or guys, if you want some tips) to do, and maybe some fancy cocktails after.
The View from The Shard
Want something really romantic, with a good view? Then the shard is the best place for you to go, you can stare at all the pretty lights of London and sip champagne, while spending some quality, loving time with your partner.
Speed Dating

Fancy falling in love on Valentines day, finding the man of your dreams, then why not speed date, you can go with a group of pals and hope you all find someone very special, maybe they'll even take you for a drink afterwards, there's really nothing to lose. I've linked the best speed dating events above, check them out!
Romantic Dinner Cruise
Now this sounds like a brilliant plan, how about all you loved up couples dine out on a boat on the Thames, it's not the cheapest option but if you want to go all out then this sounds amazing, champagne and dinner on water.
Strictly Salsa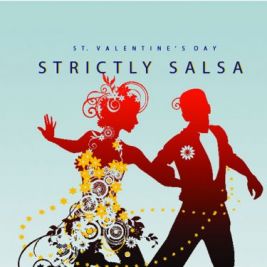 Bring out your inner dance moves, because it's time to salsa it up. How cool does this sound, with your partner, having a few drinks, dancing and having a good old laugh. Sounds like a fun time to me, might turn into dirty dancing.