So, although I come up with most of my outfit choices and sense of style I also like to browse a little at other peoples fashion style, and where but the best place to explore? the streets! But I can't always be asked to go down to oxford street or brick lane at eight in the morning when I'm not sure what the wear or where to go with the outfit I'm trying to fix up, so I use our best friend, the wide world web, such an amazing place, if you haven't already realised. I just love to go on to Google images and browse at different street style or check out several different online magazines such as LOOK! or Vogue. I popped at few of my favourite street style outfits.
Now its coming up to winter in the UK, everything dies down a little including the colours of our outfit, and I suppose this one is probably a little more suited for spring time but I love the white skinnies with the light denim jacket and grey suede ankle boots, it's right up my street.
This outfit is just me all over, I love a pair of black skinnies, with ankle boots and a leather jacket. I just don't think you can get any cooler, it's so effortlessly chic, and I love the brightness of the sky blue shirt teamed with the white tank underneath.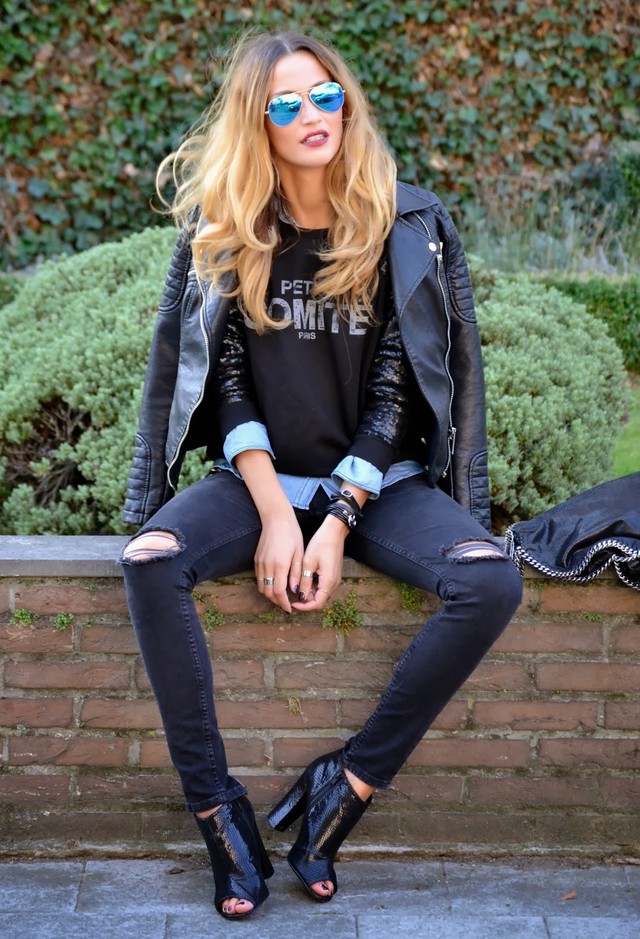 This outfit again is a little like the previous, it's so cool and chic, and dressed up a little with the peep toe courts. I'm loving the edginess of the ripped skinnies teamed with a denim shirt and black sweatshirt on top, love it!